Portal and UIS
Following systems are part of the native intranet core: study agenda administration system IS/STAG (programmed and distributed from University of West Bohemia), e-learning – UNIFOR (basic development for UP by an external company), and ERP system for human-resources, finance and record of assets – SAP (the most used commercial system in the world, developed by SAP A.G.). UIS core systems are complemented by other satellite UIS models:
STAG - CW (CourseWare), MSUP (Small STAG UP)

SAP - FaMa (Facility Management), CP (travel orders), ARIS (organization and processes)
Following modules are operated beside the UIS core systems:
ESS – electronic filing service

IGA – integrated grant agency

Management IS – statistic output for annual reports

IK – ID card evidence and related services

Autoprovoz – evidence and costs of vehicle operations

Virtual shop – shop using virtual credit card
All of the aforementioned UIS modules are covered by university portal built on WebSphere commercial platform. However, SAP is the only module which will not be fully integrated in portal because of license policy and data safety. Furthermore, there is a whole packet of web services, which can ensure the output of information requested in portal environment not only to SAP users but also to employees and students. Basic authentication and authorization application is LDAP based on Tivoli Directory Server 6.2.
Basic UIS structure is shown in attachment no. 2.
SAP is one of the most modern and most widely used ERP systems. Palacký University uses following modules: FI (finance accounting), HR (human resources), AM (asset management), CO (controlling), PS (project systems), MM (material management [purchases, supply]), SD (sales & distribution)
UIS module interfaces are realized by custom development:
Credit (Kredit) – catering (supply management)

ISKaM – student and guest accommodation (customer invoices, list of customers)

STAG - stipendiums, fees, payment records back to STAG

FAMA+ (Building Passports and properties)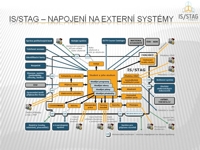 IS / STAG is an information study system agenda for colleges, universities or higher vocational schools. This system was created and is developed by Information system center at University of West Bohemia.
IS/STAG was used for the first time in 1993 at University of West Bohemia. UWB runs the third development version of this system. IS/STAG is a university system used for study administration not study support. IS/STAG registers credit and non-credit study system.
This system is used by seventeen schools in Czech Republic of which eleven are public colleges and universities, five are private colleges and one is a higher vocational school.
covers most of the UIS applications, such as the study agenda, catering and accommodation system, e-learning system, courseware, document administration system, applications for UP employees

enables single sign-on access for these systems

non-registered users can search in contacts,

view publication activities of individual employees, view maps and building plans or information from the academic agenda